Gilmore Orthodontics and Dr. David s. Gilmore, DDS, MSD are extremely proud to participate in the Smiles Change Lives program. Having treated thousands of children and teens in the San Diego area, Dr. Gilmore has seen first-hand how the transformative power of braces and a beautiful smile can have a positive impact on a child's life for years to come. Unfortunately, too many kids right here in San Diego come from families who cannot afford the orthodontic treatment they need. When we saw this need in our local community, we decided to do something about it. By partnering with Smiles Change Lives, we hope to have a positive impact on access to care for families in our community.
What is Smiles Change Lives?
In 1997, Mrs. Virginia Brown started Smiles Change Lives (SCL) in Kansas City. Since then, it's evolved into a nationwide non-profit organization that helps children who come from families that cannot afford the full cost of braces. The program has treated more than 7,000 children since it's inception and has emerged as the nation's leader in providing affordable access to orthodontic treatment to qualified youth.
SCL believes in promoting increased self-esteem and improved oral health for children in need of orthodontic treatment. Their goal is to find qualified orthodontic providers, like Dr. Khanna, who are willing to donate their services to deserving patients and connect them with families whose children can benefit from treatment.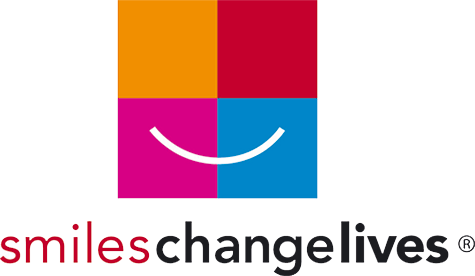 How does Smiles Change Lives work?
SCL is unique in that it matches low-income families that may have fallen on hard times with orthodontists who are willing to donate their services. While the treatment is not 100% free, SCL's nominal fee is used to find and recruit more orthodontists eager to offer their services across the U.S. and Canada. By helping their own child, these families are in a way helping other families who have children in need receive orthodontic treatment. Families that are accepted into the program must first meet some specific conditions and also agree to abide by the program's rules and requirements.
How to Apply for SCL
Children that are applying for the Smiles Change Lives program must meet the following qualifications and be motivated to follow Dr. Khanna's orthodontic treatment plan (no slacking, kiddos!). Depending on the severity of the orthodontic issues, treatment may last up to 36 months.
QUALIFICATIONS
Must be 10-18 years of age
Have no more than four baby teeth
Have good dental hygiene (as certified by the applicant's general dentist)
Have no unfilled cavities
Cannot be wearing braces currently
Be willing to pay the non-refundable $30 application fee and the $600 required $600 financial investment per child
Family must meet the SCL financial guidelines.
To find out more about program requirements and to apply, visit the official Smiles Change Lives website.